EARN UP TO
$
500
When you open new eligible checking and savings accounts and complete required activities.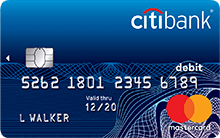 You must apply directly from this page to get this offer. Citi rates and promotional offers may vary by state.
Looks like you're in Virginia.
See offer terms and conditions1
Don't miss out. These offers end June 30th, 2019.
Earn a $400 Bonus
Open a new eligible checking and savings account in the Citibank Account Package.
Deposit a minimum of $15,000 New-to-Citibank funds between the new checking and savings accounts.
Maintain a minimum of $15,000 between the checking and savings accounts for 60 consecutive calendar days.
+
Earn $100 More
Also complete one qualifying direct deposit each month for two consecutive months within 60 days of account opening for a total cash bonus of $500!
90 days after you complete the required activities, you will receive your cash bonus!
Ability to Write Checks

Option to Earn Interest on Your Checking Account Balance


No Citi Fee for Using Non-Citi ATMs

There is a $2.50 non-Citi ATM fee if you do not maintain a minimum balance of $10,000.
Potential to earn competitive rates on a new Citi® Savings Account

Monthly Service Fee
How to Avoid $25 Monthly Service Fee
Maintain a combined average monthly balance of $10,000+ in eligible linked deposit, retirement and investment accounts.
Switch to Citi and Enjoy:
Over 60,000 Fee-Free ATMsFee-free access to cash at over 60,000 ATMs across the country - the most offered by a major bank in the U.S.3 Find an ATM near you >
Smart Digital FeaturesThe Citi Mobile® App for iPhone® lets you link non-Citi accounts4, deposit checks on-the-go5, track spending habits, and easily find nearby ATMs.
24/7 Account ProtectionTake advantage of around-the-clock fraud monitoring, activity notifications, and alerts. Plus, easily access Citi® Identity Theft Solutions should the need ever arise.